June 20 to 26, 2022
8 days | 7 nights | 6 days of cycling | 20 meals
$
1,660
/ pers.
en occ. Double
Details
Itinerary
Ship
Photos
The Loire Valley, between the cities of Nevers and Briare, in the heart of France, is a very suitable region for a relaxing cycling and barge vacation. Following the course of the Loire River, you gently pass through green countryside with charming little villages and old castles and palaces. The rich landscape is full of many fruitful vineyards. The wines of Sancerre and Pouilly Fumé are particularly famous. These two wines are considered among the most prestigious in the world. You will also see impressive examples of canal construction engineering along the Canal Latéral de la Loire.
The old town of Nevers with its winding streets, castle and churches is our starting point. En route to the wine town of Sancerre, you will visit the 12th century Chateau d'Apremont, lavishly surrounded by gardens, as well as the ancient Roman town of La Charité-sur-Loire with a 16th century stone bridge and the Notre Dame Cathedral. A wine tasting in the region of Sancerrre and Pouilly Fumé wines cannot be missed. In the meantime, you will go to the forest of St. Brisson and through vineyards.
In the meantime you will drive through the forest of St. Brisson and through seemingly endless vineyards. You will pass through a beautiful lake region and past more castles to follow the Loire River and visit Chatillon-sur-Loire with its impressive locks. The small town of Briare, with its picturesque locks and aqueduct, is the final destination of this week. On the last day, you will visit Rogy-les-Sept-Écluses, passing by the castle of Pont Chevron.
INCLUDES :
7 nights' accommodation on a luxury boat (Sailing Home) Claire de Lune – WiFi included
Breakfasts and dinner on board
Services of a guide during the bike rides
3 visits with a guide
Towels and linen for the week
Route book
Ferries fees
GPS (on request)
Protection offered by the Compensation fund for customers of travel agents
Taxes
NOT INCLUDED:
Direct roundtrip flight from Montreal to Paris
Airport transfers
Meals other than those mentioned
Bike rental
Alcoholic drinks (pay Euro, cash, on the spot)
Damage insurance for the bike (around 40$ per bike)
ADDITIONAL OPTIONS ($):
Rental of a bike and helmet | $180 (24-speed, bag, lock and bottle)
Rental of an electric bike and helmet | $290 (21-speed)
Insurance for hybrid bike | $35
Insurance for electric bike | $65
Price calculated April 16, 2021 for a stay from July 30 to August 6, 2022. Prices subject to change depending on exchange rate and availability at the time of booking. Other dates, length of stay and accommodations available upon request.
Day 2
Nevers - Gimouille, 25 km
Day 3
Gimouille - Cours-les-Barres, 40 km
Day 4
Cours-les-Barres - Sancerre, 45 km
Day 5
Sancerre - Belleville-sur-Loire, 50 km
Day 6
Belleville-sur-Loire - Briare, 45 km
Day 7
Briare - Rogy-les-sept-Écluses- Briare, 50 km
Boat: Le clair de Lune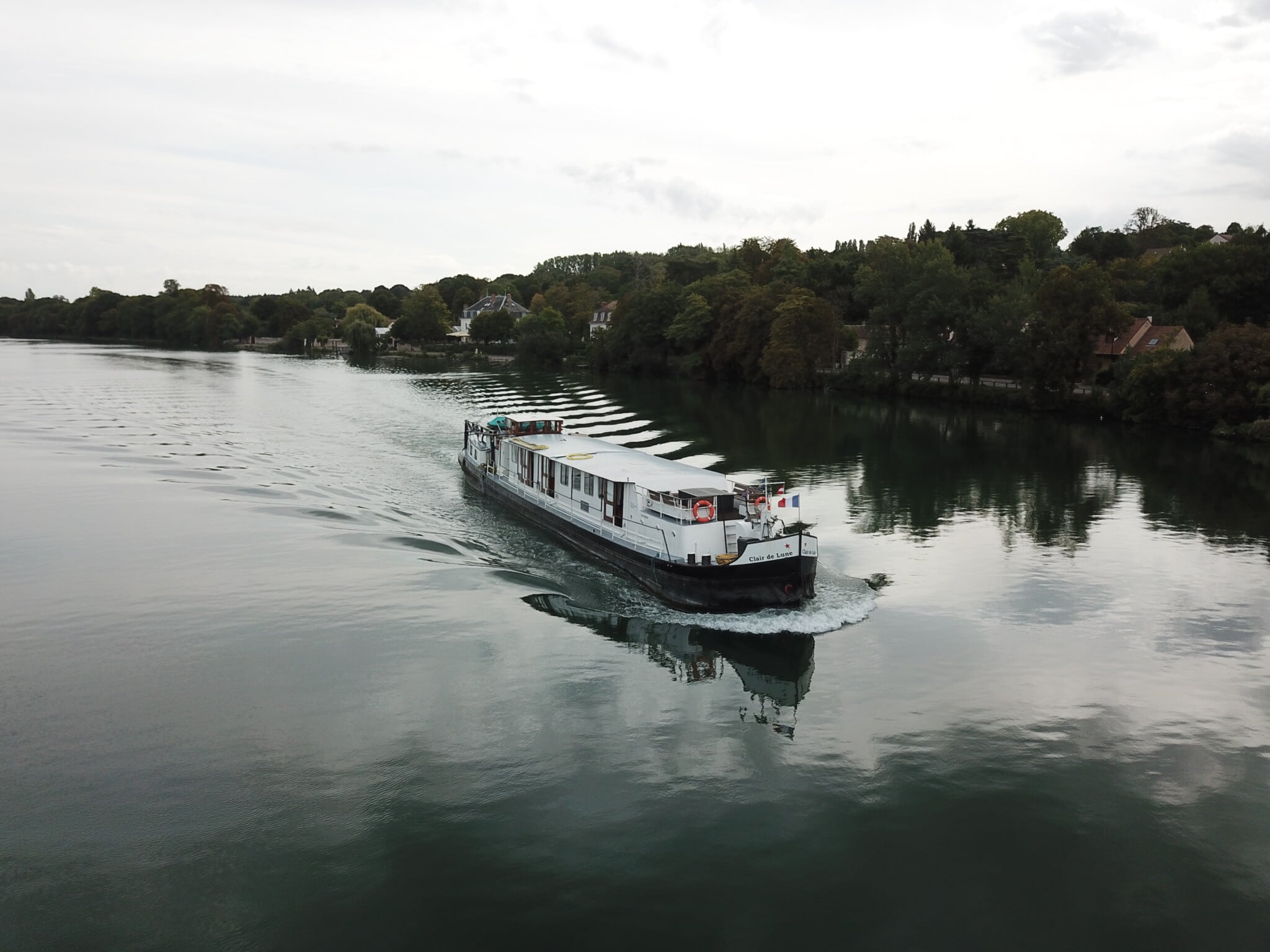 Le Clair de Lune was originally built in 1936 as a cargo ship in Belgium. In 1982, the barge was converted into a passenger ship, first named 'Steile Bank' and 'Summerjazz'. Since May 2014, we have named the ship 'Clair de Lune'. On board, there is a large and comfortable lounge with large windows for a perfect view. The barge is 34.15 meters long and 5.05 meters wide, which makes it possible to sail also in France with its narrow locks (after the tulip season).
Capacity: 17 persons
Length/width: 35 x 5 m
Electricity: 220 V
Wifi on board: Yes, available in limited quantities in the salon and on deck
Opening windows: Yes
Air conditioning: No
Cabins: Nine cabins with private shower/toilet, sink, air conditioning and central heating.
3 Double cabins with double bed
5 Cabins with separate beds
1 cabin with single bed