$
1,685
/ pers.
en occ. Double
Details
Itinerary
Ship
Photos
Historic towns, picturesque villages, a rural environment full of water, dunes and beaches: these are the typical ingredients of the Amsterdam South Tour. Not to mention the eighteen breathtaking windmills in Kinderdijk.
This tour offers a striking introduction to the heart of Holland. One day you'll stroll through the center of Haarlem, Leiden or the 16th century city of Delft, the next day you'll pedal along the reed-covered banks of the Lek or the Amstel River. In the historical cities, you will have time to visit a museum (Frans Hals, Rembrandt and Van Gogh), go shopping or relax in an open-air café. You will visit the beach and dunes near The Hague by bike, like many Dutch people. You will cross the largest seaport in the world, Rotterdam, very appropriately by boat. The eighteen windmills of Kinderdijk, built around 1750, are absolutely impressive. An optional canal boat tour through Amsterdam completes this itinerary.
INCLUDES :
7 nights' accommodation on a luxury boat (Sailing Home) Wending – including WiFi
Breakfasts and dinner on board
Lunch to go
Services of a guide during the bike rides
3 rides around town with a guide
Towels and linen for the week
Route book
Ferries fees
GPS (on request)
Protection offered by the Compensation fund for customers of travel agents
Taxes
NOT INCLUDED:
Direct roundtrip flight from Montreal to Amsterdam
Airport transfers
Transfers to the port
Meals other than those mentioned
Gluten-free, celiac or vegetarian meals
Bike rental
Alcoholic drinks (pay Euro, cash, on the spot)
Damage insurance for the bike (around 40$ per bike)
ADDITIONAL OPTIONS ($):
Rental of a bike and helmet | $180 (24-speed, bag, lock and bottle)
Rental of an electric bike and helmet | $290 (21-speed)
Insurance for hybrid bike | $35
Insurance for electric bike | $65
Entry and exit requirements – COVID-19
Most governments have implemented special entry and exit restrictions and requirements for their territory due to COVID-19. Before travelling, it is your responsibility to verify if the local authorities of both your current location and destinations have implemented any restrictions or requirements related to this situation. Vaccination or health passports may be required in some cases. It is your responsibility to be aware of the specific entry, exit and transit restrictions and requirements for the country or territory you are visiting before you travel and before you book your trip. Voyages Gendron is not responsible if you do not meet your destination's entry or exit requirements. For full details on health measures and entry and exit requirements for a destination, visit the official government website.
Price calculated April 16, 2021 for a stay from June 4 to 11, 2022. Prices subject to change depending on exchange rate and availability at the time of booking. Other dates, length of stay and accommodations available upon request.
Day 1
Amsterdam - cruising to Spaarndam and cycling to Haarlem - 15 km
Day 2
Haarlem - Leyde - 45 km
Day 3
Leyde - Delft - 40 km
Day 5
Delft - cruising to Rotterdam - Kinderdijk - cycling to Gouda, 40 km
Day 6
Gouda - Oude Wetering - 45 km
Day 7
Oude Wetering - Amsterdam - 45 km
Day 8
Amsterdam
End of the stay after breakfast.
10 am Landing
Boat : Wending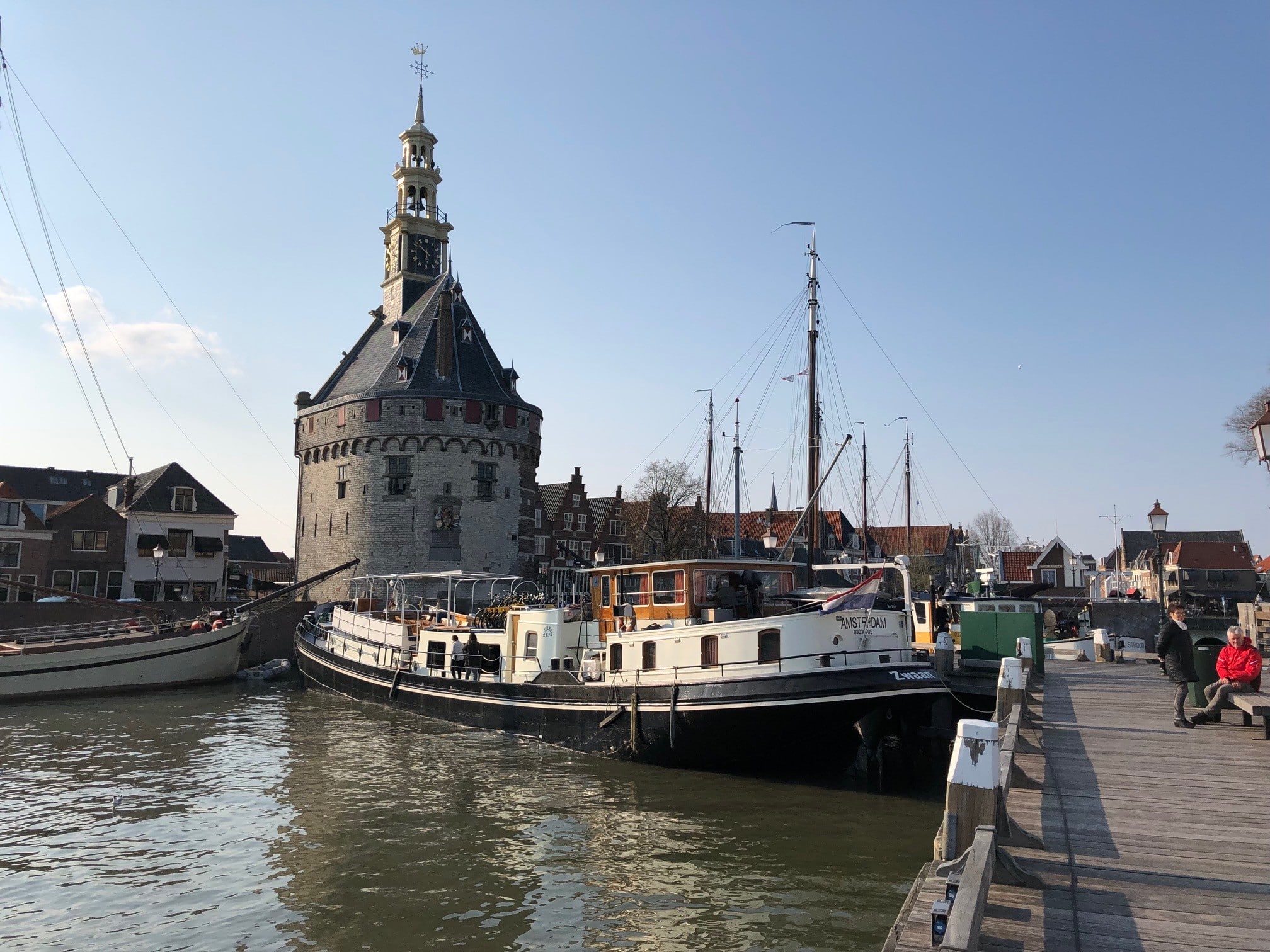 The "Wending" is a former cargo barge that started a new life in the early 90's as a luxury passenger motor barge. Since then, the "Wending" is a familiar sight on several routes in the Netherlands and Belgium.
Capacity: 24 to 26 persons
Length : 41.5 x 6.3m
Electricity : 220v
Wifi : yes .
Opening windows : yes
Air conditioning : yes
Cabins : Twelve cabins with shower, sink, toilet and private central heating.
– 10 double cabins (the beds can be put together)
– 2 triple cabins (one bed is placed above the other two)
Lounge: The "Wending" has a spacious and welcoming lounge, equipped with a complete music system and a television. It is the ideal place to relax after a bike ride.