Details
Ski resort
Accommodations
Articles
Activities
Photos
Videos
Four amazing mountains
By Robert Choquette, co-founder and former Editor of Skier Magazine and Marilyn Griffiths, special Contributor
---
It's been a couple of years since we last skied Aspen and, as we sit in the shuttle van speeding along the highway from Denver airport, we're excited to reacquaint with one of our favorite areas. It's the consummate all-American ski destination, with four amazing ski mountains, all on one lift ticket—Aspen Mountain, Snowmass, Aspen Highlands and Buttermilk. And, the free regular shuttle service makes it a breeze to hop from one to the next.
The Gant, in the heart of historic downtown Aspen, with its plethora of upscale shops, restaurants and bars, is where we've often stayed, but this time we're headed slopeside in Snowmass at the Timberline. The higher altitude takes a little getting used to—we're breathing pretty hard just unpacking! But, drinking lots of water makes it easier for us to adjust.
Since we're staying here, we easily catch the first chair up the Village Express, the starting point to access Snowmass, the largest of the four ski areas. Snowmass is where everyone, regardless of their ability, will find exactly what they want. Skiing with the family? Head for Elk Camp region with its gentle, undulating slopes that meander around islands of evergreens. Looking for highspeed cruisers?
Then Big Burn is definitely your territory. The whole area is wide open and made just for you. More of the steep and deep type? Try Hanging Valley and Cirque with its chutes, bumps, couloirs and out-of-bounds- like steeps. You'll find everything you're looking for, and so much more. Today, we spend much of the morning high speed cruising the Burn. As usual, the snow is soft and dry. As our legs start to throb (the altitude is about 3,600 meters), we head a little lower for lunch over at Elk Camp's mid area. We could spend all week here, but there are so many other areas just waiting to be explored.
Aspen Highlands is not at all glitzy. It is a favourite among locals, strong skiers, and those simply looking for something different. In addition to the many lift-accessed slopes, you can also enjoy snowcat access to the entrance of Highland Bowl. Should you choose the latter, however, keep in mind that you will have to hike about 45 minutes.
Buttermilk, with its jumps and snowparks and super easy runs is, obviously, extremely popular with the younger set. Aspen Mountain is the one right in the heart of Aspen. It's popular with intermediate and strong skiers alike. The base slopes are pretty steep, funnel and can sometimes be icy, so downloading on the gondola is always an option. There are no green runs here.
Aspen is our choice for today. Great skiing up top and almost never crowded, we take more than our fill and now must decide whether to eat on mountain at the summit—with the great views—or go into town to choose from a variety of eateries. Since we're still in ski boots, we opt for the Sundeck restaurant at the summit. Come evening, we make our way into town and enjoy a fabulous meal at La Hosteria.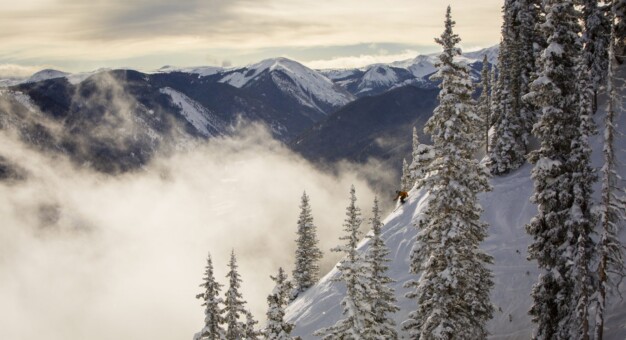 Aspen Snowmass – For thrill-seekers and families alike!

Chris Davenport is undisputedly one of America's greatest skiers. Over the years, he has won several freeride events, and has even skied down Mount Everest! While he continues to be a member of the...
Author: Paul Dubrûle
Questions about this destination?