Details
Ski resort
Accommodations
Articles
Activities
Photos
By Paul Dubrûle, Ski Sales Director
---
Colorado ski resorts have a firmly established reputation. They are often described as chic, superiorquality destinations that boast an abundance of snow as well as mountain villages and incredible skiing for every level. Breckenridge, of course, offers all of this—but it has a very cool and historic vibe to it as well.
Why cool? For starters, it was the first ski resort in Colorado to allow snowboarding way back in the 80s. Since then, Breckenridge has become the reference for snowparks and extreme sports. It has also undergone the biggest ski area expansion in North America in the last decade. And, why historic? Simply because this Western-style town features 350 historical and cultural sites, making it a key historic district in the State of Colorado. Pretty impressive, if you ask me!
Breckenridge is also known for its four peaks—8 and 10 for experts, and 7 and 9 for intermediate skiers. You should also know that it's one of the highest resorts in the country. I can still remember taking the Imperial Express SuperChair on my first visit.
The landscape took my breath away—literally! And, because I always love a good challenge, I decided to hike the rest of the way to reach the summit at 3,963 metres. Good thing I was hydrated! From there, I skied some incredible lines in the Imperial Bowl and down George's Thumb. There was tons of snow and it was perfectly steep. I really enjoyed Peak 10 for its international-calibre backcountry. But, if all this seems a little too extreme for your taste, don't worry. Breckenridge is also a very family-friendly resort adapted to the needs of intermediate skiers. You are free to effortlessly glide down the velvety satin pistes and simply admire the beauty of your surroundings.
After a full day of skiing, make sure you still have enough energy to explore the streets of this vibrant and charming tourist town. There are so many amazing restaurants, you wouldn't have time to try them all in a week if you tried. You'll want to spend at least one evening of après-ski time in one of Colorado's oldest bars, the Gold Pan Saloon. This place is a real institution!
Colorado clearly has the perfect recipe for the best ski vacation. And, if that wasn't enough already, you can even take a shuttle bus from Breckenridge to Keystone or Vail. They've really thought of everything here!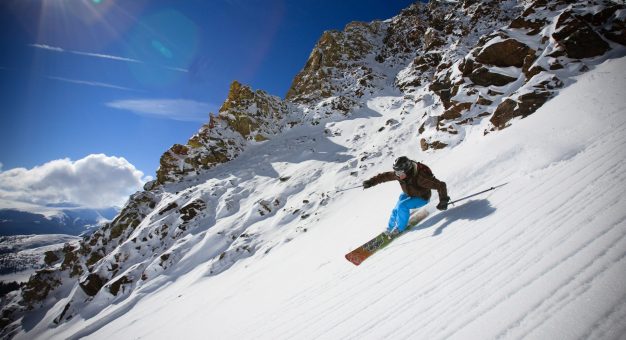 Vail et Breckenridge – Second to none!

From the moment you open your eyes in the morning, ready to enjoy the most mind-blowing mountain experience, to the end of the day, when it's time to wind down for a little après-ski relaxation by...
Author: Philippe Marquis
Questions about this destination?