Details
Ski resort
Accommodations
Articles
Videos
SKIING IN JULY
---
There is something truly surreal about going skiing in July and August—where else but in Chile! While in Santiago, it will still feel like summer to you, making it even stranger to grasp the concept that you'll soon be hitting the slopes! Even though it is technically winter here in the south, the weather in Chile's capital city is still warm enough for t-shirt wearing.
As you step outside the airport, you'll feel the Mediterranean climate responsible for Chile's abundance of productive vineyards, and its enviable reputation as one of the best wine producers in the world. You'll definitely want to take advantage while you're here to try out many of the fine bottles you can't get back home. No more than an hour after your arrival in Chile, you'll already be deep in the heart of the Andes, making your way along a road with some 40 hairpin turns! Note to self: keep your eyes on the landscape here—not only for its spectacular beauty, but also to avoid getting motion sickness!
You will keep making your way up until you finally reach the three resorts, covered in a blanket of gorgeous snow: La Parva, Valle Nevado and El Colorado. The view above the tree line is absolutely stunning. Far off in the distance lies Santiago, a city of six million, with its bright nocturnal lights and thick smog— surrounded and closed in by the valley. Around you, an immense cone covered in ski lifts stretches high into the sky, its peaks reaching over 4,000 metres in altitude.
Farellones serves as your ideal home base and is the only village that can provide you with the amenities you need. From Farellones, you can pick a mountain based on the recent snowfall, or opt for a combined ticket that will allow you to tackle more than one. And, just know that, in this neck of the woods, your destination rep will become your new best friend—no one is better equipped to help you find your way in and around the enormous terrain covered by the three resorts. Of course, being this big has its advantages. This destination has something for everyone with its couloirs, bowls and groomed runs. The off-piste skiing is also quite fabulous, and easily accessible from just about anywhere, tucked in between the groomed trails. Ask Serge to show you his favourite spots and you'll quickly understand why he now calls Chile his home! His love affair with this wonderful country began years ago, one fine winter season… or was it summer? Then again, maybe it was just winter in July!
By Alexis De Gheldere
Special Contributor and Ski Reporter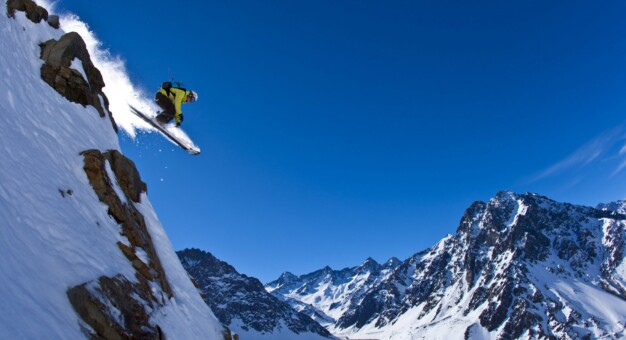 Chile – Skiing at the other end of the world

It seems like you've been literally everywhere. You know Western North America like the back of your hand. Japanese and European Alps Been there, done that. You've even stretched out your ski...
Author: Alexis de Gheldere
Questions about this destination?