Details
Ski resort
Accommodations
Articles
Activities

Skiing in Japan: Hakuba or Niseko?
Japan is no doubt a destination on the bucket list of many skiers. But how does one choose between Hakuba and Niseko?
Hakuba is located in the Nagano prefecture, at the foot of the Japanese Alps—the highest mountain range in the country, with certain peaks over 3,000 metres high. These beautiful mountains are home to about ten ski resorts that feature good vertical drops. As a bonus, the snow is particularly abundant on the slopes near the Sea of Japan. Numerous small villages with large hotels at the foot of the mountains provide skiers with a wide variety of slopes and easy access to the neighbouring ski resorts.
Niseko, for its part, features four ski resorts that are interconnected at the summit of a volcanic mountain. The northern part of this mountain is suitable for off-piste skiing when access is permitted by the authorities.
To reach the Island of Hokkaido, at the extreme north of the country, you'll need to take a domestic flight. Once there, you'll enjoy striking views of the Yoteï, an immense solitary volcano that rises high above the ski runs in Niseko. Because it is located further north than Hakuba, the snow can be more abundant here, but you have to consider that the winds are also a little stronger.
These two regions are among the most developed in terms of skiing in the Japanese archipelago. As a bonus, it's relatively easy to make yourself understood in English because of the high number of foreign visitors. While you're in Japan, don't miss out on the opportunity to visit Tokyo. This clean and extremely safe megalopolis is the perfect place to completely immerse yourself in the Japanese experience. I promise you will absolutely love it! A ski safari in Hakuba and Shiga Kogen is another possible option if you've got the time.
Lastly, I also suggest hopping on a bullet train to Kyoto and Hiroshima to truly immerse yourself in the local and international history. //
– Jean-Luc Brassard, Group Leader and special contributor
Group departure
Hakuba Valley, Japan
January

9

to

20

,

2024
12 days | 10 nights | 6 days of skiing | Flight | 7 meals
Group departure
Niseko, Japon
January

17

to

29

,

2024
13 days | 11 nights | 6 days of skiing | Flight | 7 meals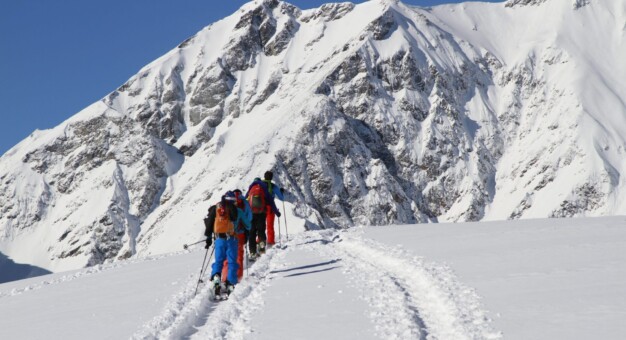 Hakuba valley – Worlds apart from the rest

In the last few years, Japan has become quite a popular destination among Quebec skiers. Its legendary powder snow, onsens, exotic appeal, fabulous cuisine and big modern cities are just a few of the...
Author: Paul Dubrûle
Questions about this destination?