Details
Ski resort
Accommodations
Articles
Activities
Photos
Videos
On-site representative(s)
Questions about this destination?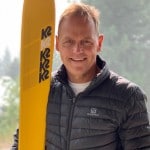 Erik KalacisOn-site representative | Red Mountain, B.-C.
Erik has been skiing the runs and hidden lines at RED Mountain Resort for 16 years. A former Montrealer, national freestyle ski team member, coach and CSIA ski instructor, Erik will show you where to ski and ride to make the best of your visit to RED! Sponsored by K2 and Smith, Erik lives in Rossland year round.