Details
Ski resort
Accommodations
Articles
Activities
Photos
"By Eve Boissonnault, Special Contributor
It was Jean-Claude Killy who, in the 1960s, became the poster child of French skiing. His career as a competitive skier, marked by a series of spell-binding performances, led to Killy taking home the gold in all three Alpine events during the 1968 Winter Games in Grenoble. As testament to his talent, a skiing area in Killy's hometown was later named in his honour.
Fastforward to 2015, when Espace Killy now enjoys a reputation as the epicentre of the skiing world. Located halfway between Geneva and Turin, the little piece of Savoyard paradise, nestled in the Vanoise Massif, is proud to be known as the French skiing paradise par excellence. Young and vibrant, Espace Killy is the place to enjoy some of the most intense skiing in the world. Val d'Isère, with its chic and sophisticated flair, is connected to its younger and more rebellious sister station, Tignes, through three different passages. Together, this fantastic duo forms Espace Killy, a superb ski area boasting over 300 km of groomed runs, which has received accolades around the world.
Tignes: Vertical intensity
The athletic side of skiing takes on a whole new meaning in Tignes. In this immense sunny playground of endless white, criss-crossed by a sophisticated system of high-speed lifts, one
can easily spend days zigzagging from top to bottom, back and forth between endless off-piste runs and wide-open groomers. A freestyler's dream, these facilities are nothing short of spectacular (Tignes was host to the Euro X-Games in 2013).
For starters, the runs on Grande Motte Glacier—the focal point in Tignes—open up in early October so you can get a jump-start on the season. And, if you're looking for something a little different to do, you can always try out some scuba diving… under the ice, that is! On top of all these adrenalinepumping options, Tignes has recently added the all new
Bun J Ride to its line-up of activities: this crazy Bungee inspired attraction allows you to ski down a 30 m ramp dropping 40 m on bungee cords until it locks you into a zip wire that will take you back down to terra firma. Of course, we are only just scratching the surface here. We could go on and on about everything that makes Tignes so great!"
Group departures
$
4,595
/ pers.
6 other spots available
Group departure
Val d'Isère, France
March

1

to

9

,

2024
9 days | 7 nights | 6 days of skiing | Flight | 7 meals
Group departure
Tignes, France
March

8

to

16

,

2024
8 days | 7 nights | 6 days of skiing | Flight | 14 meals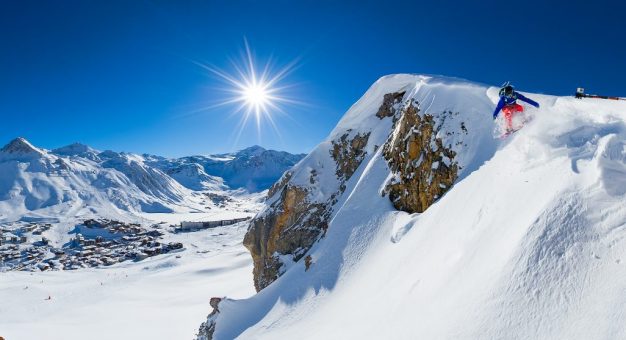 Tignes and Val d'Isère – A legendary duo

Located in the Savoie region, the vast Tignes and Val d'Isère ski area—also known as Espace Killy—is a big part of the reason the French Alps are so renown. As long as you keep a map of this...
Author: Sylvie Desmarais
Questions about this destination?