Accents Hotels is a team that is committed to serving you beyond your expectations. They are warm and welcoming establishments, which constitute the heart of the tourist offer of the MAGDALEN ISLANDS. Nestled in the heart of the village and a few steps from the sea, Auberge Madeli opens its arms wide to offer you a particularly comfortable stay!
Visit accommodation website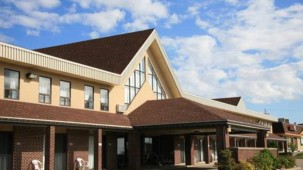 During this exceptional period caused by the COVID-19 pandemic, Accents Hotels has taken the measures required by the Public Health Department to offer you the most comfortable and safe hotel environment. Here are our most recent actions and measures as of April 27, 2020: https://www.hotelsaccents.com/fr-ca/covid-19-informations
To date, the measures required by government authorities do not allow for a complete opening of the restaurant. Our continental breakfast offer will be adapted according to the government measures that will be requested. All our rooms are equipped with a refrigerator and a Keurig coffee machine. In the common areas, guests will also find microwave ovens as well as toasters, an ice machine and vending machines.
All rooms are equipped with: full bathroom, hypoallergenic duvet, leather armchair, flat screen TV, telephone, clock radio with iPod docking station, work desk, refrigerator, Keurig coffee maker, hair dryer, iron and ironing board, air conditioning and free wireless internet. Regular rooms have one or two queen size beds, with or without sofa.
Bike rentals
https://www.tourismeilesdelamadeleine.com/fr/veli-velo/location-d-equipement-de-plein-air/
There is also a shuttle service: https://www.tourismeilesdelamadeleine.com/fr/autobus-les-sillons/velo/
Questions about this accommodation?