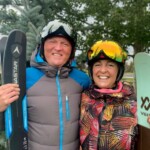 Marc Gosselin & Hélène TurgeonOn-site representatives | Banff, Alberta
Professional phone numbers :
Young retirees from Quebec with a passion for skiing and winter, we have been living our passion in the Rockies for over 8 years now. We take advantage of the long season that extends from mid-November to the third week of May to ski several times a week.
We take great pleasure in guiding skiers from Canada and abroad to discover the wonderful ski areas of the Banff/Sunshine and Lake Louise ski resorts for the past 5 years. Once again this year, it is with great pleasure that we will welcome you to discover the joys of skiing in Alberta and make your stay unforgettable.