Details
Ski station
Accommodations
Activities
Videos
On-site representative(s)
Questions about this destination?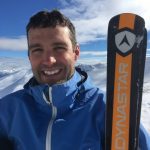 Jonathan CampagnaOn-site representative | Red Mountain, B.-C.
Jonathan teaches skiing every winter since 2001. In the last 18 years, he has explored many destination such as New Zealand, Argentina, Chile and Australia. He has guided groups in many ski resorts of the Rockies and has been a ski instructor at Red Mountain for a little over 10 years. He knows the domain like the back of his hand and will help you navigate its slopes, making it even easier to make your vacation into a memorable memory for years to come.