Individual packages
Hotel : Sun Peaks Grand Hotel and Conference Centre 4*
Sun Peaks
8 days | 7 nights | 5 days of cycling | Difficulty: 3 to 4 / 5 | Car rental
Choose your dates
Our mountain biking suggestions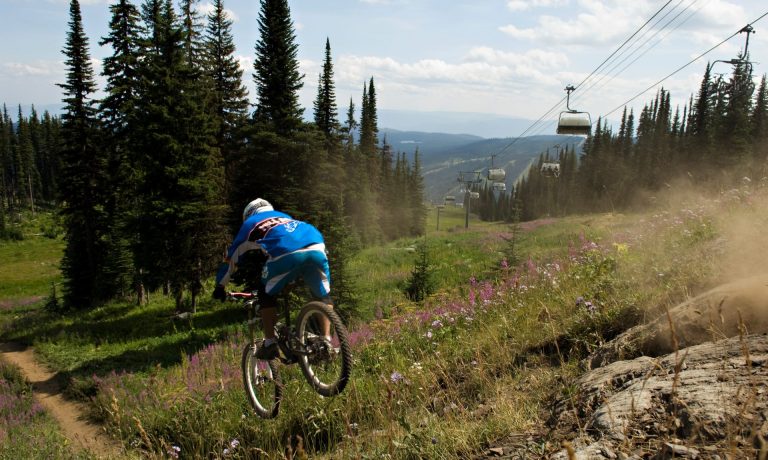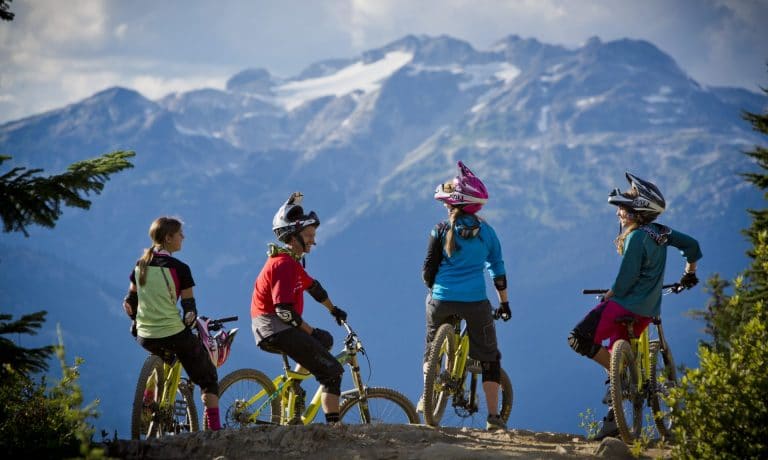 Le Whistler Mountain Bike Park est considéré le no 1 mondial en terme de parc de vélo de descente accessible en télésièges, et ce pour une bonne raison : il offre plus de terrain que n'importe quel autre parc de vélo en Amérique du Nord avec un dénivelé vertical de 4 900 pieds, ce qui en fait une expérience unique de vélo de montagne. Les pistes se composent fréquemment de descentes soutenues et les télésièges permettent beaucoup plus de descentes ou de remontées que dans une journée traditionnelle de vélo.
Le Whistler Mountain Bike Park offre maintenant cinq secteurs bien définis avec plus de 76 km de pistes à explorer, soit :
Peak Zone situé près des sommets de la montagne de Whistler. Préparez-vous à 8 000 pieds de vertical offrant des vues spectaculaires et un accès direct avec les sentiers ''single track'' uniques au monde. Explorez  4 946 pieds ou 1 507 m. de dénivelé desservies par les remontées mécaniques. Il y en a pour tous les niveaux.
Fitzsimmons Zone est en fait la zone originale du Whistler Mountain Bike Park avec 5 niveaux de difficulté différentes incluant la fameuse A-Line, et ses 5 centres d'habiletés. Cette zone est située sur les pistes plus basses, plus près du village de Whistler vers la station Olympique à 1000 m. d'altitude (3 300 pieds), s'étalant autours des remontées mécaniques du bas de la station jusqu'aux confins de la forêt jusqu'aux pistes Crank it Up et Golden Triangle.
Garbanzo Zone englobe un secteur 5 fois plus grand que les autres secteurs mis ensemble, augmentant le domaine avec 2 700 pieds de vertical en plus. Plus haut, plus abrupt et plus difficile que les autres secteurs. Passant par des nœuds de racines d'arbres ancestraux en passant par les sentiers du Deep ou Goat's Gully jusqu'aux rampes de sauts du Freight Train, cette zone est certainement la plus intense de toutes, conçue pour les cyclistes de niveaux intermédiaire et avancé.
Creek Zone Le tout dernier développement du Whistler Bike Park est l'ouverture de la gondole Creekside.  Recommandé pour les bikers de niveau avancé et expert seulement, la gondole Creekside donne accès aux zones Garbanzo et Fitz via Expressway, Lower Freight Train et No Joke.
Finalement le Air Dome. Cette zone offre 8 400 pi2 de terrain intérieur avec un bassin de mousse pour pratiquer vos sauts, des rampes, un quarter pipe et half pipe.
Qu'importe vos habiletés ou besoins en adrénaline, vous y trouverez de tout !
Note : si vous en voulez encore plus… Il ne reste qu'à ajouter le secteur : Top of the World, situé en haut de la Peak Chair. Il est à noter que pour avoir accès à ce secteur  vous devrez avoir votre passe de bike park et payer un frais additionnel sur place de 18$+ taxes par personne par descente (réf. été 2015).
Fitzsimmons Zone :
Niveaux :
6% Pro (3 sentiers) / 12% Débutant (6 sentiers faciles) / 18% Avancé (9 sentiers) / 22 % Expert (11 sentiers) / 42% Intermédiaire (21 sentiers)
Creek Zone :
Niveau
: 100% pour Avancé : 2 pistes
Peak Zone :
Niveau :
100% pour Avancé (2 sentiers)
Garbanzo Zone :
Niveaux :
5%  Pro (1 sentier) / 18% Intermédiaire (4 sentiers) / 18% Expert (4 sentiers) / 59% Avancé (13 sentiers)
Air Dome :
8400 pieds carré d'aire de jeux intérieur. Environ 22 $ US pour 3 heures. Ouvert de la mi-mai à la mi-octobre. Vérifier les heures d'ouverture sur le site de Whistler bike Park.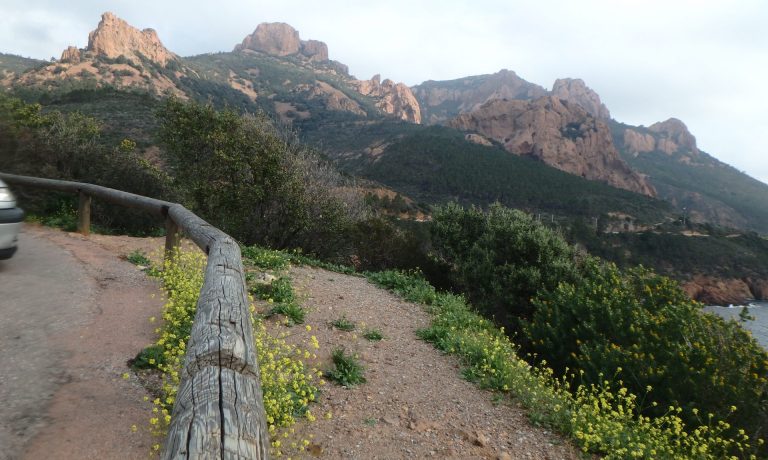 Le nom à lui seul fait rêver. La côte est magnifique et les routes sinueuses qui surplombent la Méditerranée sont superbes à emprunter! Quand on s'éloigne de la mer, une multitude d'autres circuits s'offrent aussi à nous. On peut s'y entraîner fort à rouler sur des cols difficiles et profiter de magnifiques points de vue. On peut aussi rouler plus mollo, près des vignobles, dans des champs de lavande, sur des bords de rivière ou sur des chemins forestiers. Et pourquoi ne pas mélanger la grimpe et le plat? Vous traverserez des cols, des pics et des villages aux noms poétiques.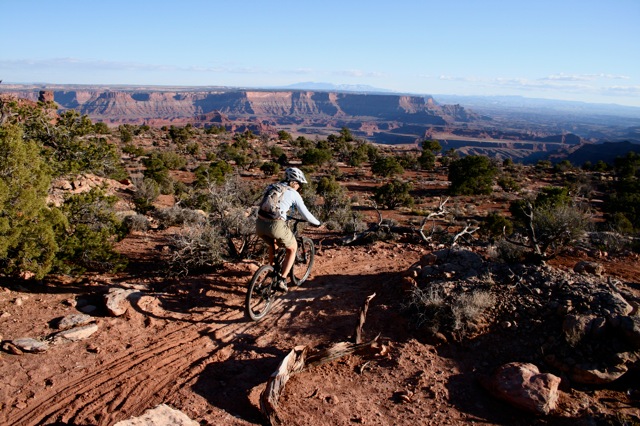 CAPITALE MONDIALE DU VÉLO DE MONTAGNE!
Situé au milieu de magnifiques colonnes de roches colorées, Moab est protégé par d'immenses canyons et offre des paysages grandioses et uniques caractérisés par ses formations rocheuses remarquables et ses arches. La ville de Moab propose de nombreuses attractions et activités sportives. Ses sentiers sont magnifiques pour pratiquer le vélo et ses sites, comme les Canyons et les nombreuses arches de grès, représentent de réels défis pour les cyclistes quelque soit leur niveau. Combinez votre séjour avec une visite à Las Vegas ou dans d'autres parcs nationaux situés dans les environs.